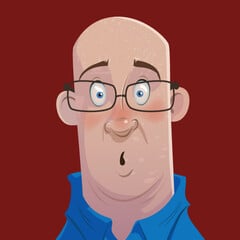 Mike Meredith
Freelance Illustration and Character Design
Nashville, United States
About
I began my love of art as a youngster! Spiderman was my favorite thing to draw. I started making money from art as a caricature artist at the Opryland Themepark in Nashville.
I completed my M.A in Illustration/Design in 2010 and am near the completion of my Illustration M.F.A. from Savannah College of Art & Design. Currently, I'm a college art professor who also enjoys freelance illustration. I would love to become a freelance illustrator that enjoys teaching on the side.I'm a member of SCBWI.
I have illustrated many board books and other products for The Clever Factory, numerous spot illustrations for Pockets Magazine and have extensive experience in illustrating for Lifeway Christian Resources and United Methodist Publishing House.
I'm a parrothead who enjoys playing D&D in his spare time. I also enjoy watching Netflix and playing board games with my wife and three sons. (Oh, and drawing)
Skills
Concept Art
Digital Painting
Illustration
Character Design
Drawing
Vector Illustration
Cartooning
Children's Books
Software proficiency

After Effects

Blender

Illustrator

Photoshop
SketchBook Pro

InDesign

Premiere

Procreate
Experience
Freelance illustrator for web, print, editorial, children's books and children's markets. Concept art for games, movies and more.

Courses include Digital Illustration, Intro to Web Design, New Media Studio

Courses include Color Theory, Illustration I, Book Publishing, Illustration Materials, Figure Drawing, Sequential Art

Teaching Foundations III: Time Based Media, students work with camera angles to learn how the camera to subject relationship affects story. Software introduced is Adobe Audition, After Effects and Premiere.

Instruct a minimum of four classes per quarter. Work with students nearing graduation to complete portfolios. Attend all faculty meetings and assist students with schedule advising. Serving as chair of the Technology Committee.